Control systems of rolling machines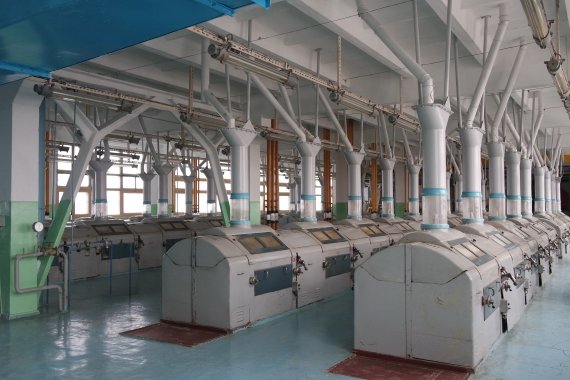 Controlling the stopping and dump of rolls of the rolling mill is an extremely delicate and critical process at the mill, since any violation of the grinding process technology, as a rule, leads to breakdowns and long downtimes of the equipment, irreversible damage to the rolls. Therefore, the milling process is continuously visually monitored by the mill staff. There are also budgetary systems for controlling the supply of grain to rolling machines, which currently cannot boast of high accuracy and reliability.
The INNOVINNPROM company's specialists have developed equipment that provides comprehensive control of the condition of rolling mills, control of stoppage and dump of rolls, data transfer to the automated control system of technological processes of the mill.
The system provides control of the level of grain supply to the rolling machines and control of the currents of the machines' motors, automatic control of the rolls of the machines.
The basis of the system is the PKVV rolling machine control device. As a rule, two PKVV devices are installed on each A1-BZ type rolling machine. Each PKVV device provides control of the following parameters of the rolling mill:
Roll drive motor current;
Grain level at the entrance to the machine;
Machine vibration level (optional);
Bearing temperature (optional).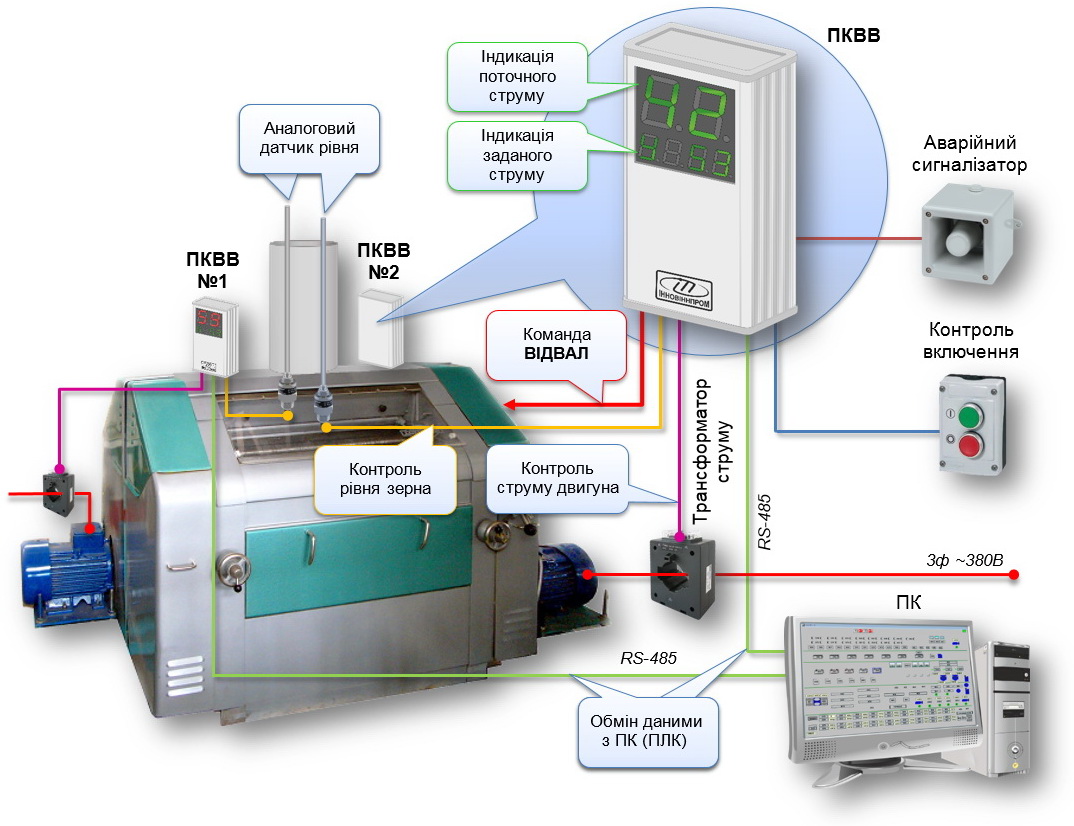 Based on the data of the analog level sensor, the device automatically generates commands to stop and dump the rolls of the machine.
In case of exceeding the measured values of the motor current above the set level, the device provides an emergency warning - the color of the main indicator changes from green to red and a warning signal is issued to the production control computer and to the buzzer. In the case of a critical excess of the current value above the set level, the device gives a command to stop the machine engine.
Optionally, vibration and temperature control sensors of the machine tools can be connected to the device. In case of exceeding the level of vibration and temperature, the device also generates emergency warning and shutdown commands.
Structurally, the device is made in an aluminum case and is mounted directly on the machine. The instrument package includes a Dinel analog capacitive level sensor and a Dwyer current transformer. Optionally, a vibration and temperature sensor can be installed. Thanks to the built-in Bluetooth module, the setting and calibration of the device is performed from an ordinary smartphone on the Android operating system. The device provides transmission of data on operating modes and the state of the machine via the RS485 channel at a distance of up to 1 km.