Device for monitoring network parameters PKPM-3F4K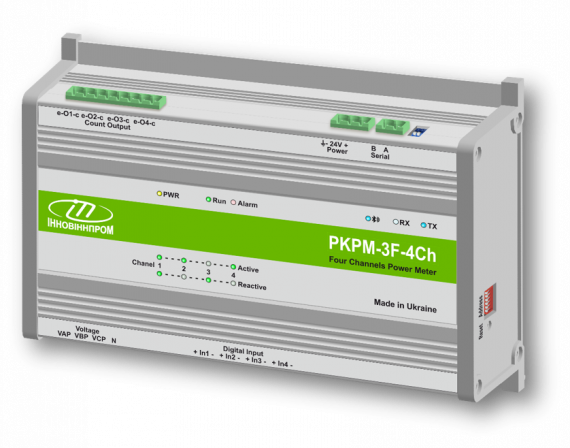 The device for indicating the parameters of the electrical network PKPM-3F4K (Further "the device") is intended for monitoring the electrical parameters in four sources of the three-phase electrical network 380V 50Hz. The device is used both individually and as part of systems of technological accounting of electricity, systems of control and analysis of energy parameters, for example SAKURA-T.
The device monitors active/reactive/total energy, current values of voltage and current in the phases of each of the four channels of a three-phase electrical network. Current measurement is carried out by connecting measuring three-phase current transformers of the TST series.
Optionally (when ordering), the device has four discrete inputs for controlling the state of the starters and four discrete outputs with a programmable frequency for external electricity meters, information on the full power on each measurement channel.
The device has a high accuracy of control of electrical parameters and complies with IEC 60687, IEC 61036, IEC 61268, MEK 62053-21, MEK 62053-22 and IEC 62053-23 standards.
The error of measuring active energy in the dynamic range of 1000...1 at 25 ° C is less than 0.1%. Temperature stability of measurement channels is 30 ppm/°C.
Data exchange with the device is carried out via RS-485 interface, ModBus-RTU protocol.
The device is set up from a mobile phone via the Bluetooth network.
Photo of installation of energy control equipment