Weight controller SP-705
The weight controller SP-705 is designed and manufactured taking into account many years of experience and is sufficient to perform most of the tasks of the weighing complex.
The main advantages of the weight controller SP-705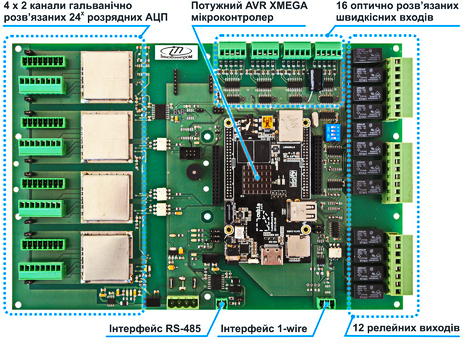 A powerful AVR XMEGA microcontroller capable of quickly solving input data processing tasks and immediately responding to non-standard and emergency situations;
4 x 2 channels of galvanically decoupled 24-bit ADCs provide the ability to analyze data both separately for each of the 8 strain gauges and collectively for all of them, which allows you to control the uniformity of loading the scales and their technical serviceability;
16 optically decoupled high-speed inputs make it possible to connect discrete signals of the positioning control system, motion sensors, lighting, cabinet opening, etc.;
12 relay outputs provide the ability to control a sufficient number of barriers, traffic lights, etc.;
The RS-485 interface provides reliable communication with a PC at a distance of up to 1 km;
The 1-wire interface enables the use of electronic access control keys.
In addition, the SP-705 provides a connector for installing a minicomputer directly on the controller board.