Controller of digital thermal pendants КCТ-17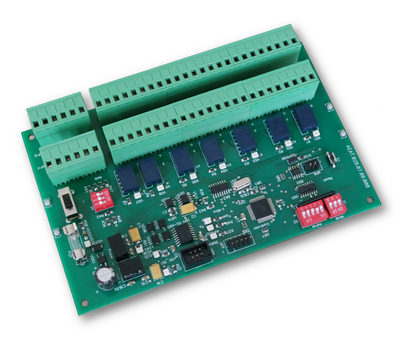 The controller of digital thermal pendants KCT-17 provides automatic multi-channel reading of temperature data from thermal pendants based on DS18B20 digital thermometers. The controller is equipped with an additional connector for connecting a standard temperature control device of any manufacturer without additional switches and disconnections, as well as a connector for connecting the INNOVINNPROM PDK-18 diagnostic device. Optionally, the INNOVINNPROM DTV-2 humidity sensor can be connected to the KCT-17.
The PDK-18 diagnostic device provides the ability to view the temperature measurement data using the DS18B20 sensors of each suspension, view and change the numbering of the sensors, and read their identification numbers. In this way, it is possible to diagnose and maintain thermal suspensions on site without connecting to a PC.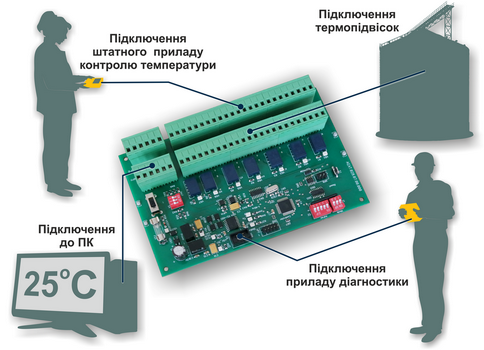 The connection of thermal pendants to the measuring part of the controller is carried out through electromechanical relays. In order to prevent damage during lightning discharges, the controller carries out mechanical commutation of all terminals of thermal suspensions to the case, except for short periods of data reading time. If the thermometry system is turned off during a thunderstorm, all thermal pendants will be grounded. In addition, the controller has galvanic isolation by power supply circuits and the RS-485 interface. Thanks to this configuration, in the event of failure, for example, a short circuit due to a lightning discharge of one of the thermal pendants, the functionality of the remaining thermal pendants and the thermometry system as a whole is guaranteed.
The controller of digital thermal pendants is part of the local unit (LU) and provides automatic measurement, fixation, memorization and output to external sources of temperature values at controlled points.
Technical characteristics of the KCT-17 controller
| | |
| --- | --- |
| The range of controlled temperatures, ° С | -55 ... + 125 |
| Accuracy of temperature measurement in the range of -10 ... + 85 ° C | 0,5 |
| Discreteness of temperature indication, ° С | 0,1 |
| The number of galvanically isolated temperature measurement channels, pcs | 12 * |
| The maximum number of digital thermometers that can be connected, pcs | ≤ 250 |
| Ambient humidity measurement range *,% | 0 ... 100** |
| Accuracy of ambient humidity measurement *,% | 0,5** |
| Humidity indication resolution *,% | 0,1** |
| Ambient temperature range *, ° С | -30 ... + 50 |
| Ambient humidity at a temperature of +35 ° C,% | ≤ 98 |
| Supply voltage, V | 24 |
| Power consumption, W | ≤ 2 |
| Breakdown voltage between galvanically isolated circuits, kV1.0 | 1,0 |
| Communication interface with thermal pendants | 1-wire |
| PC communication interface | RS485 |
| Warranty period of operation, years | 1 |
| Term of work, years | 10 |
Notes: * Several thermal pendants can be connected to one measuring channel
** If the DTV-2 temperature and humidity sensor is connected
Related products
| | |
| --- | --- |
| Diagnostic device PDK-18 | Temperature and humidity sensor DTV-2 |
| | |
| | |
| | |