Automation of the process of growing synthetic crystals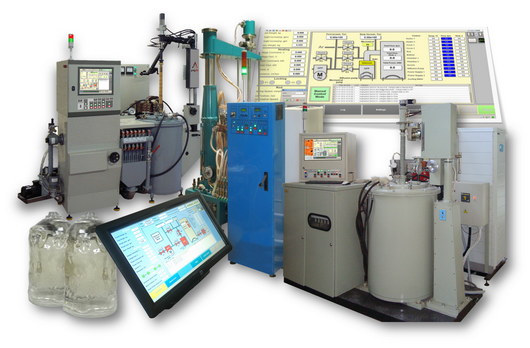 The technology of growing single crystals from a melt requires the availability of an automatic control system for the single crystal growing unit. The main task of such a system is to maintain during the growth process the technological parameters that affect the formation of inhomogeneities in the growing single crystal. For the growth of single crystals, these parameters are the position and shape of the crystallization front, the temperature gradient near it, and the growth rate of the single crystal.
The automated control system (ACS) is an integral part of the overall technology for growing sapphire single crystals using the Kiropoulos method. The quality of the resulting single crystal largely depends on the quality of temperature control.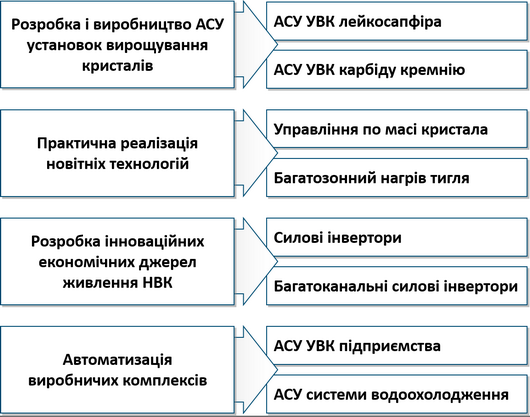 The control systems of growth units are automated control systems (ACS) that measure the voltage and current of the heating element, measure the temperature and flow of the coolant, monitor the state of the vacuum equipment, monitor the movement of the moving parts of the growth units and, based on the received data and the tasks of the operator, form control effects on system equipment. All measured data and control commands are processed and displayed on monitors and logged.

Automatic control systems provide a high level of process automation, precise control of thermal conditions, which allow obtaining high-quality single crystals. ACS is equipped with an adaptive system of automatic control of growing single crystals in real time.
!!! WARNING !!!
In connection with the clear and coordinated actions of the Government of Ukraine and the invaluable "assistance of a brotherly state", the cultivation of single crystals of leucosapphire in Ukraine has been destroyed as a branch of industry. The factories in Uzhhorod and Drohobych were stopped, the industrial opportunities of one of the world's largest manufacturers of crystal growing plants, Priroda LLC, Luhansk, were lost.
But we have invaluable experience and knowledge of technologies for growing leukosapphire single crystals, know the equipment, have highly qualified staff and are ready for further cooperation for the revival of the industry. We are looking for new technological and financial partners.